Peter Holliday s The Mountain of Fire exhibition is a journey through a small island in Iceland, which explores its cultural history and identity in the wake of a volcanic eruption. The photography exhibition is now open at the Bang Bang Gallery, which is located on Aalto EE s premises in the main building of the Aalto University School of Business.
The Mountain of Fire explores the complex interrelations between mankind and nature, set against the unpredictable terrain of the Vestmannaeyjar archipelago in southern Iceland.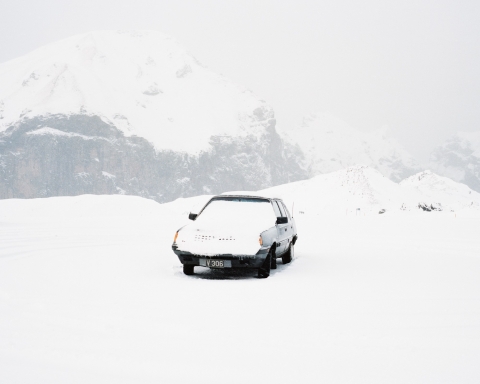 In the early hours of 23 January 1973, after lying dormant for millennia the island of Heimaey suddenly split open, sending columns of lava into the night sky. The birth of Eldfell (English for 'Mountain of Fire') led to an immediate five-month evacuation and destroyed many homes, violently altering the island's geography in the process.
"By investigating the themes of absence and remembrance, I reflect on the volcanic eruption of Eldfell. I examine how this sudden trauma, which affected the symbolic order of existence, transformed both the island's geography and the collective psyche of the people who live there; inhabitants who exist between a lost and future landscape," Holliday says.
By the end of the eruption in July 1973, Eldfell had grown to a height of 200 metres and the island's land area had increased by 20%. Many of the islanders began to return to Heimaey, a colourless, ashy landscape they now barely recognised, which had been irreversibly transformed by the geomorphic forces of nature.
"I weigh up the legacy of such an event by capturing Heimaey's stark terrain, once again revered by its inhabitants as a home; an island refuge in an unforgiving environment."
Peter Holliday (b. 1992) is a Scottish photographer based in Helsinki, Finland. Informed by the themes of presence and absence, his work focuses on the relationship between mankind and the land.
Peter's work has appeared in publications including Creative Review, Wired, It's Nice That, and Der Greif. In 2015, he was invited to exhibit his series 'Where the Land Rises (The Mountain of Fire)' at the Reykjavík Museum of Photography. In 2016, Peter's work was exhibited at the Annenberg Space for Photography in Los Angeles. Most recently, he was shortlisted for the Magnum Photos Graduate Photographers Award 2017. Peter is currently studying for an MA in Photography at Aalto University School of Arts, Design and Architecture
The exhibition will be open by appointment from 18 January 2018 to 29 April 2018 (contact heli@bangbang.fi).
More information
art.aaltoee.com/bang-bang-gallery
Heli Mäenpää, Creative Director, Gallerist, Lecturer
Bang Bang Gallery
Tel. +358 50 5110 765, heli@bangbang.fi
Bang Bang Gallery
Bang Bang Gallery celebrates young creative talent in collaboration with Aalto University Executive Education (Aalto EE). By welcoming fresh names in Finnish photography and introducing them to Aalto EE's clientele, the gallery aims to provide the possibility for interesting encounters. Every three months a new artist and his or her latest series will be exhibited at Bang Bang Gallery, with the possibility of making a purchase. The gallery is curated by Heli Mäenpää, a lecturer at Aalto University, creative director and passionate supporter of young artists.
Aalto University Executive Education Ltd
Aalto University Executive Education Ltd offers thought-provoking leadership development services (Aalto EE), professional development services for specialists and managers (Aalto PRO) and creative solutions covering the whole life cycle of entrepreneurship (Aalto ENT). Aalto University brings to our offering a multidisciplinary approach, together with innovative learning methods; this provides a unique combination of practical expertise with the latest research.
Aalto University Executive Education's strengths lie in its global operating model and diverse offering. In addition to Finland and Singapore, Aalto University Executive Education offers education programs in China, Indonesia, Iran, Poland, Russia, South Korea, Sweden, Taiwan, Tanzania, Vietnam and the Baltic countries. As a part of Aalto University, it holds three respected business university accreditations – AACSB, AMBA, and EQUIS – which places it among the top 0.5% of institutions in the world.